Zero% Sensitive Wash Lotion
Frosch Zero% Sensitive Wash Lotion cleans and protects particularly sensitive skin. The formula with skin-caring urea supports the natural protective acid mantle and ensures a pleasant and clean skin feeling. It dispenses with dyes, fragrances, parabens, EDTA and microplastics.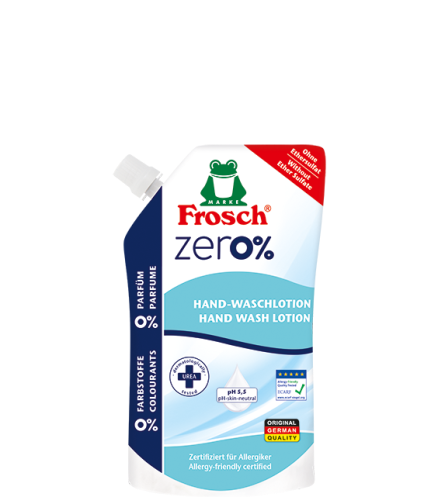 Sensitive with skin care Urea
hypoallergenic: without dyes and fragrances
Ideal for frequent hand washing and sensitive skin
free of microplastic, parabens and EDTA
refill pouch: reduces packaging, 100% recyclable
Pour Sensitive wash lotion into a decorative frog soap dispenser. Wet hands, lather thoroughly with Sensitive Washing Lotion for at least 20 seconds, then rinse with water and dry carefully.
Aqua, Sodium Laureth Sulfate, Sodium Chloride, Glycerin, Cocamidopropyl Betaine, Coco-Glucoside, Glyceryl Oleate, Urea, Citric Acid, Lactic Acid, Sodium Benzoate
Further information

Free of animal-derived ingredients
All Frosch formulas completely avoid the usage of animal ingredients.

Microplastic free
Water-friendly formulas clean and care without microplastics.