Zero% Sensitive Detergent
Frosch Zero% Sensitive Detergent ensures due to its skin-friendly, hypoallergenic formulation with skin-caring Urea, high washing power at 30° to 95°C. Because it contains no dyes, perfume oils and addition of preservatives, it is particularly suitable for sensitive skin and people with allergies.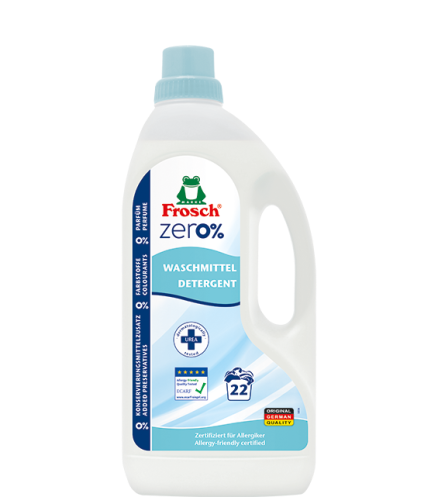 sensitive with Urea
30°-95° C
for colors and whites
without colourants and addition of preservatives
dermatologically tested
Pre-sort the laundry (e.g. by colour, degree of soiling, type of fiber) and care instructions for the textiles note. Stubborn stains by direct application of the Pre-treat with detergent. With the lowest possible temperature to wash.
Aqua, Sodium Olivate, Alcohol, Amide Polyglycol Ether, Potassium Cocoate, PEG-30 Glyceryl Cocoate, Sodium Citrate, Potassium Citrate, Sodium Laureth Sulfate, Laureth-7, Deceth-6, Deceth-8, Polypropylene Terephthalate, N-Acyl, N-Methyl Glucamine, Coco-Glucoside, Glycerin, Sodium Carboxymethyl Inulin, PVNO, Urea, Protease, Amylase, Pectate Lyase, Cellulase, Mannanase
Further information

Free of animal-derived ingredients
All Frosch formulas completely avoid the usage of animal ingredients.