Zero% Sensitive Dishwashing Lotion
Frosch Zero% Sensitive Dishwashing Lotion removes grease and dirt and, with its high rinsing power, ensures sparkling clean dishes. The recipe contains urea and completely dispenses with dyes and perfume oils. It is particularly suitable for sensitive hands and protects them from drying out.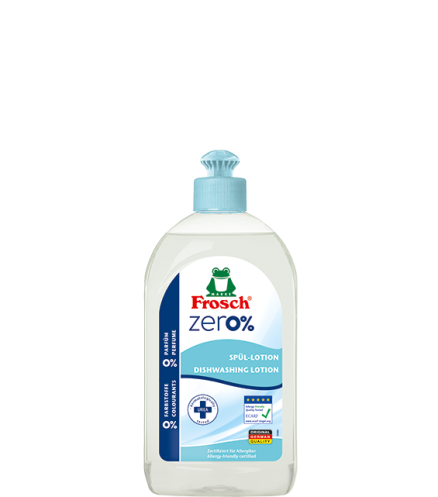 dishwashing strength
hypoallergenic: without dyes and fragrances
skin-neutral pH 5.5
dermatologically tested
Recommended dosage for 5 L of flushing water: not very dirty: 3 ml (¾ teaspoon, soiled: 5 ml (1¼ teaspoon).
5-15% anionic surfactants, < 5% amphoteric surfactants, nonionic surfactants, Lactic Acid. Other ingredients: urea
Further information

Free of animal-derived ingredients
All Frosch formulas completely avoid the usage of animal ingredients.

Microplastic free
Water-friendly formulas clean and care without microplastics.

Recyclat / Recycelbar
Packaging made of recycled and recyclable materials makes possible the circularity of raw materials.