Washing Machine Hygiene Cleaner Citrus
Frosch washing machine hygiene cleaner citrus dissolves limescale and gives the washer a powerful cleaning. The 3-in-1 formula with citric acids treats materials gently while removing dirt and limescale even from hard-to-reach parts and spaces. Unpleasant odors are eliminated.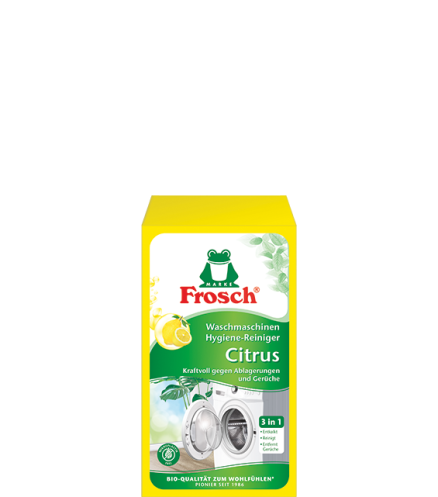 3 in 1: removes limescale, cleans, eliminates odors
citric acids dissolve limescale
carton made of 95% recycled paper
formula gentle to materials
Pour the content of the pack (250 g) into the empty drum of the washing machine. Start a main wash cycle with a minimum of 40°C without prewash and without adding any laundry or detergent.

Free of animal-derived ingredients
All Frosch formulas completely avoid the usage of animal ingredients.

Microplastic free
Water-friendly formulas clean and care without microplastics.