Powder Detergent Citrus
Frosch powder detergent citrus is suitable for white and hot-water laundry except for woll and silk. The formula's powerful cleaning action with the freshness of lemon cleans the fibers at temperatures from 30° to 95° C to remove stubborn stains such as fruit, grass, tea, coffee and red wine.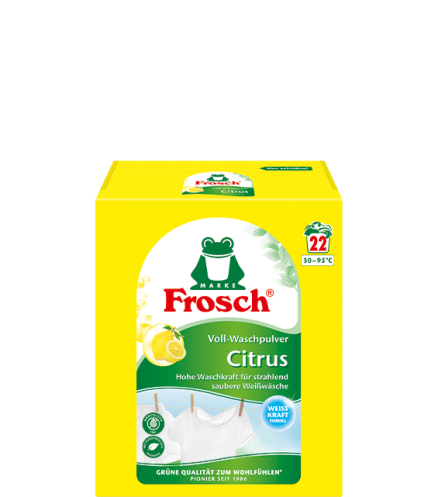 powerful formula for white and hot-water laundry
30° - 95°C
22 loads of laundry
eco box made of 85 % recycled paper, recyclable
Presort the laundry (e.g. by color, degree of soiling, type of fiber) and follow the laundry instructions of the textile labels. Depending on the hardness of the water and the degree of soiling, use the appropriate amount of detergent and always wash with a full drum.
Sodium Sulfate, Sodium Carbonate, Zeolite, Sodium Carbonate Peroxide, Aqua, Laureth-3 & Laureth-9, TAED, Laureth-7, Sodium Palmitate, Cellulose Gum, Sodium Carboxymethyl Carbohydrate, Sodium Silicate, Parfum, Protease, Dipropylene Glycol, Cellulase, Citrus Medica Limonum Extract, Mannanase, Amylase, Disodium Distyrylbiphenyl Disulfonate
Further information

Free of animal-derived ingredients
All Frosch formulas completely avoid the usage of animal ingredients.

Microplastic free
Water-friendly formulas clean and care without microplastics.

European surfactants
Use of European surfactants to ensure shorter transportation routes and reduced dependency on tropical oils from monoculture.