Vinegar Cleaner
The powerful Frosch vinegar cleaner removes limescale, water spots, soap residue and dirt. It does so with the proven and highly-effective power of vinegar, which thoroughly cleans all areas in the household, especially kitchen and bath, removes limescale and leaves behind a clean, brilliant shine.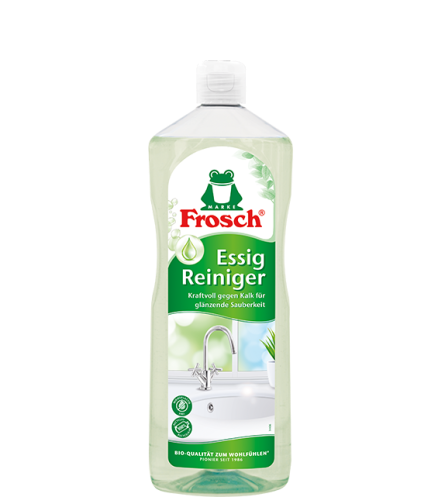 tough on limescale
with the strenght of vinegar
for kitchen and bath
With normal soiling approx. 1/3 cup (60 ml) to 5 liters of water. Minimum amount of suds: 83 L For stubborn dirt, apply undiluted, leave to take effect and rinse well. Do not mix with other products. Not suitable for acid-sensitive materials. Test on an inconspicuous area first on sensitive surfaces.
AQUA, ACETIC ACID, SODIUM LAURETH SULFATE, CITRIC ACID, LAURETH-7, ASCORBIC ACID, COLORANT
Further information

Free of animal-derived ingredients
All Frosch formulas completely avoid the usage of animal ingredients.

Recyclat / Recycelbar
Packaging made of recycled and recyclable materials makes possible the circularity of raw materials.

European surfactants
Use of European surfactants to ensure shorter transportation routes and reduced dependency on tropical oils from monoculture.