Neutral Cleaner
The Frosch neutral cleaner is an especially economical all-purpose cleaner for floors, wooden, kitchen and bath furnishings. The formula containing plant-based surfactants is kind to skin and materials even with frequent use. Its very good skin compatibility has been dermatologically confirmed.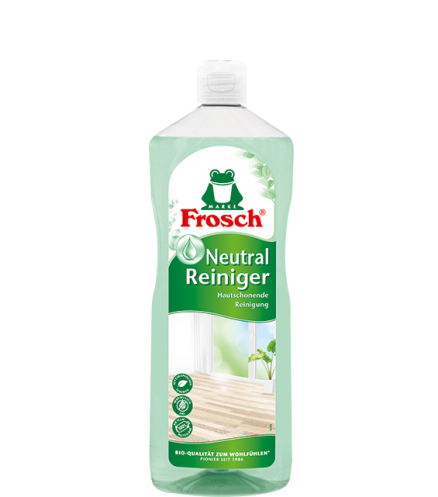 gentle cleaning for all surfaces
pH skin-neutral
sensitive to skin and materials
vegan
For normal soiling, add 2 tablespoons (24 ml) to 5 liters of water. • Minimum amount of suds: 208 L • In the case of stubborn dirt, apply undiluted, leave to take effect and rinse well. Do not mix with other products.
AQUA, SODIUM LAURETH SULFATE, SODIUM CHLORIDE, SUNFLOWEROYL METHYLGLUCAMIDE, PROPYLENE GLYCOL, SODIUM BENZOATE, GLYCOL DISTEARATE, COCO-GLUCOSIDE, PARFUM, COLORANT
Further information

Free of animal-derived ingredients
All Frosch formulas completely avoid the usage of animal ingredients.

Microplastic free
Water-friendly formulas clean and care without microplastics.

Recyclat / Recycelbar
Packaging made of recycled and recyclable materials makes possible the circularity of raw materials.

European surfactants
Use of European surfactants to ensure shorter transportation routes and reduced dependency on tropical oils from monoculture.