Universal-Cleaner Orange
The Frosch all-pupose cleaner orange for intense cleaning of floors and almost all wipeable surfaces. Its high-performance formula with strong grease-cutting soap completely and reliably removes grease and dirt. It also eliminates unpleasant smells and leaves behind a fresh orange scent.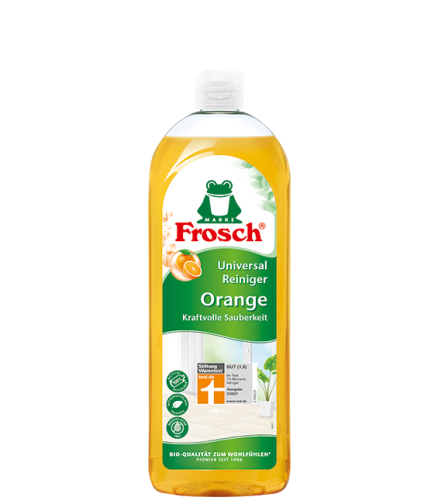 powerful cleaning
for floors and surfaces
dissolves grease
Dosage: approx. 2 tablespoons (30 ml) in 5 liters of warm water. In the case of stubborn dirt, apply undiluted, leave to take effect and rinse well. Do not mix with other products. Not suitable for waxed and oiled wooden surfaces.
AQUA, SODIUM LAURETH SULFATE, PHENOXYISOPROPANOL, SODIUM CHLORIDE, Amide polyglycol ether, Linseed Acid, Methyldiethanolamine salt, METHYL DIETHANOLAMINE, PARFUM, TETRASODIUM GLUTAMATE DIACETATE, LIMONENE, LINALOOL, COLORANT
Further information

Free of animal-derived ingredients
All Frosch formulas completely avoid the usage of animal ingredients.

Microplastic free
Water-friendly formulas clean and care without microplastics.

Recyclat / Recycelbar
Packaging made of recycled and recyclable materials makes possible the circularity of raw materials.

European surfactants
Use of European surfactants to ensure shorter transportation routes and reduced dependency on tropical oils from monoculture.