Toilet Cleaner Vinegar
With a powerful formula containing acetic acids, Frosch toilet cleaner vinegar removes limescale deposits, urine stains and grime and ensures a thoroughly clean toilet. The vinegar toilet cleaner also eliminates unpleasant odors and leaves behind a fresh fragrance.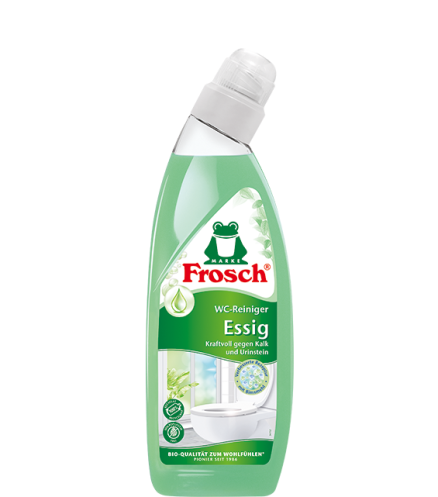 strong against limescale and urine stains
with the power of vinegar
eliminates unpleasant odors
fresh fragrance
Raise the toilet seat. Squeeze and untwist the safety cap. Spray into the toilet and under the rim, moisten the surface evenly, allow to take effect, brush and rinse off if necessary.
Aqua, Acetic Acid, Sodium Laureth Sulfate, Xanthan Gum, Dipropylene Glycol, Parfum, Ascorbic Acid, Colorant
Further information

Free of animal-derived ingredients
All Frosch formulas completely avoid the usage of animal ingredients.

Microplastic free
Water-friendly formulas clean and care without microplastics.

Recyclat / Recycelbar
Packaging made of recycled and recyclable materials makes possible the circularity of raw materials.

European surfactants
Use of European surfactants to ensure shorter transportation routes and reduced dependency on tropical oils from monoculture.