Sensitive Soap Refill Pouch
The hypoallergenic formula cleans and protects sensitive skin. Its valuable and moisturizing ingredients support the natural protective acid mantle and ensure a pleasant feeling on the skin. The very good skin compatibility has been dermatologically confirmed.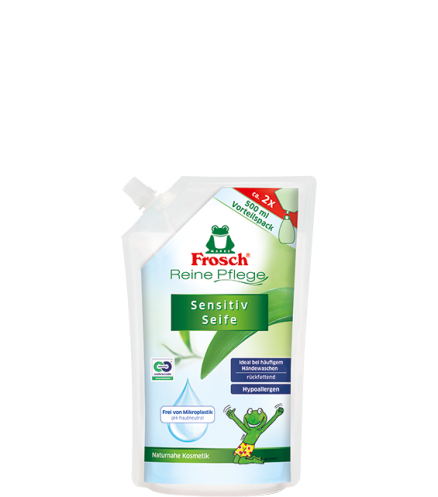 skin-neutral pH 5.5
ideal for children's sensitive skin
free of microplastic, parabens and EDTA
vegan
refill pouch: reduces packaging, 100% recyclable
Unscrew the screw cap and fill the sensitive soap into a decorative frog soap dispenser – up to a maximum of three fingers below the bottle opening. Close the soap dispenser. Put the sensitive soap on your hand, foam it up with a small amount of water, wash and rinse your hands as usual.
Ingredients: Aqua, Sodium Laureth Sulfate, Glycerin, Sodium Chloride, Cocamidopropyl Betaine, Coco-Glucoside, Glyceryl Oleate, Parfum, Sodium Benzoate, Lactic Acid, Citric Acid
Further Information Cosmetics

Free of animal-derived ingredients
All Frosch formulas completely avoid the usage of animal ingredients.

Microplastic free
Water-friendly formulas clean and care without microplastics.