Peach Blossom Sensitive Soap Refill Pouch
The sensitive soap with peach blossom extract gently cleanses the skin and protects it from drying out. The moisturizing ingredients support the skin's natural protective acid mantle and ensure a pleasant feeling on the skin. The skin compatibility has been dermatologically confirmed.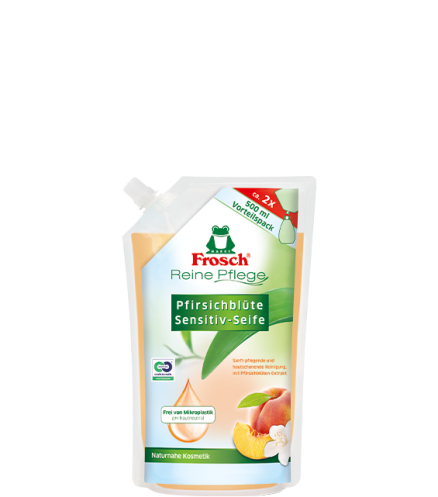 pH skin-neutral
free of microplastic, parabens and EDTA
vegan
refill pouch: reduces packaging, 100 % recyclable
Unscrew the screw cap and fill the sensitive soap into a decorative frog soap dispenser – up to a maximum of three fingers below the bottle opening. Close the soap dispenser. Put the sensitive soap on your hand, foam it up with a little water, wash and rinse your hands as usual.
Ingredients: Aqua, Sodium Laureth Sulfate, Sodium Chloride, Glycerin, Cocamidopropyl Betaine, Coco-Glucoside, Glyceryl Oleate, Dipropylene Glycol, Prunus Persica Flower Extract, Citric Acid, Lactic Acid, Sodium Benzoate, Parfum, CI 45100, CI 47005
Further Information Cosmetics

Free of animal-derived ingredients
All Frosch formulas completely avoid the usage of animal ingredients.

Microplastic free
Water-friendly formulas clean and care without microplastics.