Scouring Cream Orange
The Frosch scouring cream orange removes all kinds of dirt, especially in the kitchen and bath. The strong formula with natural, microfine marble dust and highly effective grease-dissolving surfactants cleans and leaves a fresh orange scent. Ideal for glass-ceramic cooktops.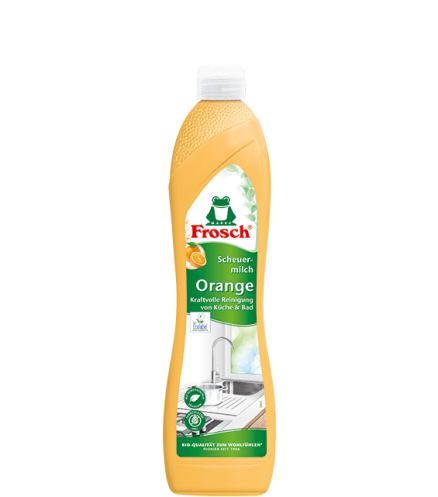 powerful cleaning for kitschen & bath
dissolves grease
with natural marble dust
>70% rapeseed surfactant
Apply undiluted to the soiled surface, clean with a cloth or soft sponge and rinse well. Do not use hard or scratchy scouring pads. Do not mix with other products. Not suitable for acrylic surfaces.
AQUA, CALCIUM CARBONATE, METHYL DIETHANOLAMINE, Amide polyglycol ether, PHENOXYETHANOL, LAURETH-7, POLYACRYLIC ACID, PARFUM, CITRUS AURANTIUM DULCIS FRUIT EXTRACT
Further information

Free of animal-derived ingredients
All Frosch formulas completely avoid the usage of animal ingredients.

Microplastic free
Water-friendly formulas clean and care without microplastics.

European surfactants
Use of European surfactants to ensure shorter transportation routes and reduced dependency on tropical oils from monoculture.