Anti-Calc Raspberry-Vinegar
Frosch limescale remover raspberry vinegar eliminates even stubborn limescale and dirt residue from taps, bathtubs, showers and tiles. The powerful formula with raspberry vinegar and acids cleans kitchen and bath to a brilliant shine and leaves behind the fresh scent of raspberry.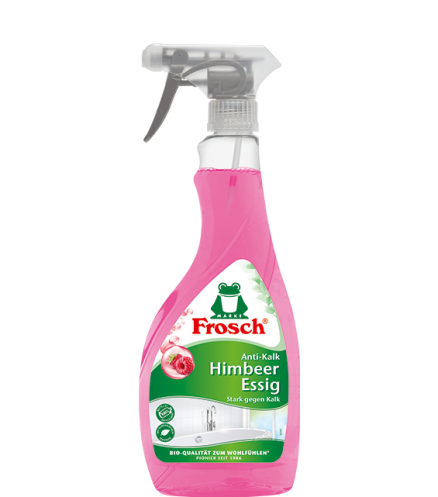 powerful limescale remover
with raspberry-vinegar
no waiting - short contact time
for kitchen and bath
Twist nozzle to open. Spray on, leave to work for a short time, then simply wipe off dirt and limescale with a wet cloth or rinse and wipe off with a dry cloth. HINTS: Not suitable for acid-sensitive materials such as marble, terrazzo, natural stone, fittings with gold or silver bath or enamelled bathtubs. Test on an inconspicuous area first on sensitive surfaces.
Aqua, Citric Acid, Lactic Acid, Sodium Laureth Sulfate, Xanthan Gum, Acetic Acid, Tetrasodium Glutamate Diacetate, Amide Polyglycol Ether, Parfum, Colorant
Further information

Free of animal-derived ingredients
All Frosch formulas completely avoid the usage of animal ingredients.

Microplastic free
Water-friendly formulas clean and care without microplastics.

Recyclat / Recycelbar
Packaging made of recycled and recyclable materials makes possible the circularity of raw materials.

European surfactants
Use of European surfactants to ensure shorter transportation routes and reduced dependency on tropical oils from monoculture.