All-purpose Detergent
The strong universal detergent is suitable for washing all textiles except wool and silk. The formula with apple extracts delivers deep-down cleaning power at temperatures from 20° to 95°C to give you freshly scented laundry.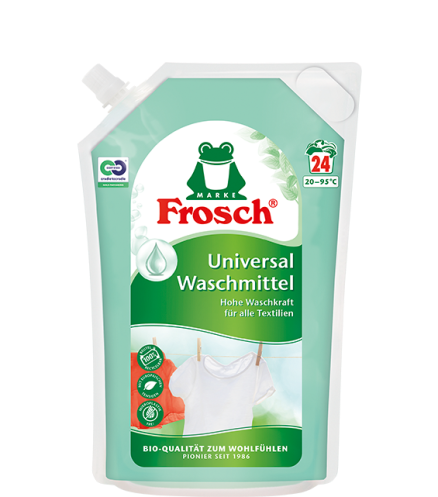 all-purpose detergent for all textiles
Powerful formula
20° - 95°C
24 loads of laundry
monomaterial pouch for best recyclability
Presort the laundry (e.g. by color, degree of soiling, type of fiber) and follow the laundry instructions of the textile labels. Pre-treat stubborn stains by applying the detergent directly on the stains. Depending on the hardness of the water and the degree of soiling, use the appropriate amount of detergent and always wash with a full drum.
Aqua, Laureth-7, Sodium Olivate, Sodium Cocoate, Alcohol, Sodium Citrate, Sodium Laureth Sulfate, Amide Polyglycol Ether, Parfum, Glycerin, Sodium Carboxymethyl Inulin, Limonene, Malic Acid, Hexyl Cinnamal, PVNO, Benzyl Salicylate, Linalool, Citronellol, Protease, Amylase, Cellulase, Colorant
Further information

Free of animal-derived ingredients
All Frosch formulas completely avoid the usage of animal ingredients.

Microplastic free
Water-friendly formulas clean and care without microplastics.

Recycled / Recyclable
Packaging made of recycled and recyclable materials makes possible the circularity of raw materials.

European surfactants
Use of European surfactants to ensure shorter transportation routes and reduced dependency on tropical oils from monoculture.