Rinse Aid
Frosch rinse aid with organic alcohol rinses clean naturally without leaving any residue and ensures a radiant shine thanks to quick drying. Dishes and glasses are left streak-free. The pouch reduces packaging by 60% compared to a traditional 750ml bottle.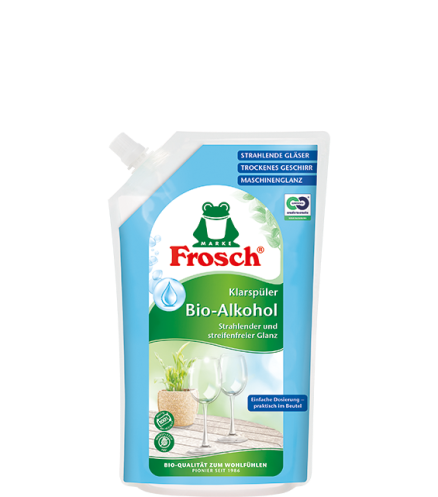 sparkling, no-streak shine
dry dishes and glasses
clean machine
refill pouch: reduces packaging, 100% recyclable
Pour rinse aid into the rinse chamber of the dishwasher. Tip: select a low-temperature washing program. By observing the dosing instructions, energy and water consumption are kept as low as possible and water pollution is reduced.
Aqua, Fatty Alcohol Polyalkylene Glycol Ether , Alcohol, Citric Acid, Sodium Octyl Sulphate, Coco-Glucoside, Monosodium Citrate, Coco-Glucoside
Further information

Free of animal-derived ingredients
All Frosch formulas completely avoid the usage of animal ingredients.

Microplastic free
Water-friendly formulas clean and care without microplastics.