Oase Room Freshener Lemon Grass Refill Pack
Aromas and scents can influence our mood and our sense of well-being. For centuries aroma therapy has put this knowledge to good use. The world of Frosch Oase room fragrances too is based on olfactory science. The room fragrances give your home a true feel-good atmosphere.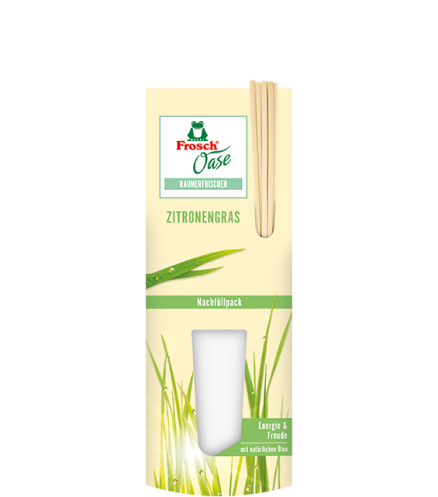 room fragrance with natural oils
with refreshing citros note
90ml design bottle
Cut the sachet open, fill the fragrance essence in the existing design bottle and put the sticks inside the bottle. As soon as the rattan sticks are soaked with the perfume, the fragrance unfolds. Depending on the climate of the room and the amount of sticks, the room fragrance lasts between 6 - 8 weeks.

Free of animal-derived ingredients
All Frosch formulas completely avoid the usage of animal ingredients.

Microplastic free
Water-friendly formulas clean and care without microplastics.