Lime All-In-One Dishwasher Tabs
The Frosch all-in-one dishwasher tabs ensure powerful cleaning in the dishwasher and radiantly shiny dishes. The food-safe all-in-1 recipe is based on renewable raw materials.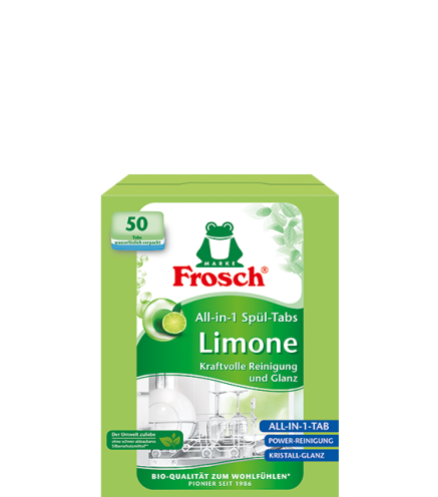 powerful cleaning & shine
all-in-one-function
50 tabs with water-soluable wrapping
eco carton made of 95% recycled paper
Dosage: 1 tab = 1 rinse Do not remove the foil, it is water-soluble. Place the tab in the dosing chamber of the dishwasher. To reduce energy and water consumption and water pollution, run a low-temperature wash cycle (from 40°C) when the machine is fully loaded. Add salt and rinse aid if necessary.
Sodium Citrate, Sodium Carbonate, Sodium Carbonate Peroxide, Fatty Alcohol Glycolether, Sodium Polyacrylate, TAED, Sodium Polyaspartate, Aqua, Sodium Silicate, PEG-75, Polyvinyl Alcohol, Dinatriumdisilicat, Polycarboxylate, Sodium Carboxymethyl Inulin, Bentonite, Protease, Sodium Bicarbonate, Parfum, Amylase, Citrus Medica Limonum Extract, Colorant
Further information

Free of animal-derived ingredients
All Frosch formulas completely avoid the usage of animal ingredients.

Microplastic free
Water-friendly formulas clean and care without microplastics.