like Bile Soap Stain Remover
Frosch like bile soap stain remover is a powerful tool for fast and effective pre-treatment of laundry. The gentle-to-colors stain remover is suitable for use on whites and colors and for all types of fabric except silk.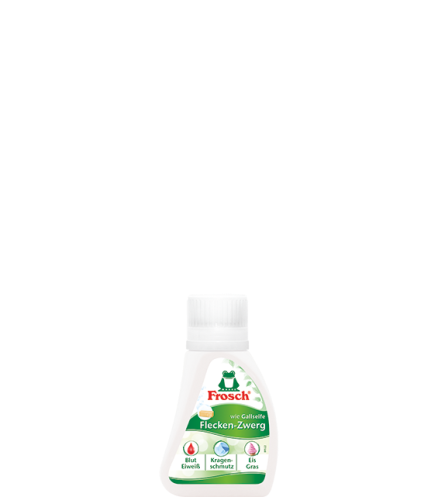 strong against grease and protein-based stains
for colors and whites
treats colors gently
vegan
Apply the product on the stain before washing, leave to work for a short time (up to 10 minutes) and wash in the washing machine as usual. First the textiles should be checked for color fastness on an inconspicuous area. Follow the material and care instructions of the manufacturer.
Aqua, Alcohol, PEG-30 Glyceryl Cocoate, Sodium Laureth Sulfate, Sodium Olivate, Laureth-7, Deceth-4, Monosodium Citrate, Glycerin, Xanthan Gum, Propylene Glycol, Parfum, Protease, Lipase, Amylase, Phenoxyethanol, Mannanase, Citrus Aurantium Dulcis Oil
Further information

Free of animal-derived ingredients
All Frosch formulas completely avoid the usage of animal ingredients.

Microplastic free
Water-friendly formulas clean and care without microplastics.

Recyclat / Recycelbar
Packaging made of recycled and recyclable materials makes possible the circularity of raw materials.

European surfactants
Use of European surfactants to ensure shorter transportation routes and reduced dependency on tropical oils from monoculture.