Handdishwashing Lotion Citrus
Frosch handdishwashing lotion with lemon extract cleans the dishes brilliantly clean. The recipe based on plant-based surfactants has a strong fat and dirt-dissolving power and leaves a fresh scent. It is pH skin-neutral and the very good skin compatibility has been dermatologically confirmed.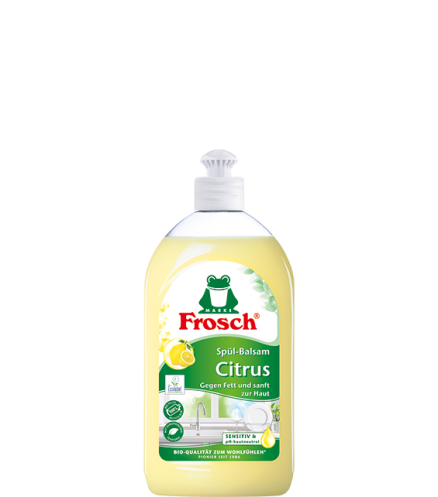 gentle to skin washing power
with lemon extract
skin-neutral pH 5.5
DOSAGE (on 5 L of water): slightly soiled: 3 ml, soiled: 5 ml
Aqua, Sodium Laureth Sulfate, Sodium Chloride, SODIUM LAURYL SULFATE, SODIUM BENZOATE, Cocamidopropyl Betaine, Sunfloweroyl Methylglucamide, Coco-Glucoside, Propylene Glycol, Coco-Glucoside, Glycerin, LACTIC ACID, Glycol Distearate, Dipropylene Glycol, Amide Polyglycol Ether, Citrus Limon Fruit Extract, Colorant
Further information

Free of animal-derived ingredients
All Frosch formulas completely avoid the usage of animal ingredients.

Microplastic free
Water-friendly formulas clean and care without microplastics.

Recyclat / Recycelbar
Packaging made of recycled and recyclable materials makes possible the circularity of raw materials.

European surfactants
Use of European surfactants to ensure shorter transportation routes and reduced dependency on tropical oils from monoculture.