Frosch Baby Laundry Detergent
Frosch Baby Laundry Detergent has a high washing power for white and boiled laundry at 30°-95°C. The hypoallergenic formula with provitamin B5 does not contain colourants, fragrances and addition of preservatives, is hypoallergen and ideal for sensitive skin of babies, children, allergy sufferers.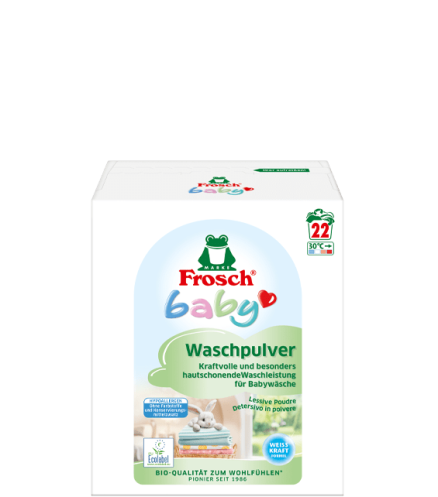 Cleaning strength at 30°-95° C
For colors and whites
22 loads of laundry
Hypoallergenic: without dyes and addition of preservatives
Pre-sort the laundry (e.g. by colour, Degree of soiling, type of fiber) and care instructions for the textiles.
Sodium Sulfate, Sodium Carbonate, Zeolite, Sodium Carbonate Peroxide, Aqua, Laureth-3 & Laureth-9, TAED, Laureth-7, Sodium Palmitate, Cellulose Gum, Sodium Carboxymethyl Carbohydrate, Sodium Silicate, Protease, Cellulase, Mannanase, Amylase, Panthenol, Disodium Distyrylbiphenyl Disulfonate
Further information

Free of animal-derived ingredients
All Frosch formulas completely avoid the usage of animal ingredients.

Microplastic free
Water-friendly formulas clean and care without microplastics.

European surfactants
Use of European surfactants to ensure shorter transportation routes and reduced dependency on tropical oils from monoculture.