Frosch Baby Laundry Detergent
Frosch Baby Laundry Detergehas a high washing power for white and colored laundry at 30°-95°C. The hypoallergenic formula with natural chamomile extracts does not contain any dyes and addition of preservatives, is hypoallergen and ideal for the sensitive skin of babies, children, allergy sufferers.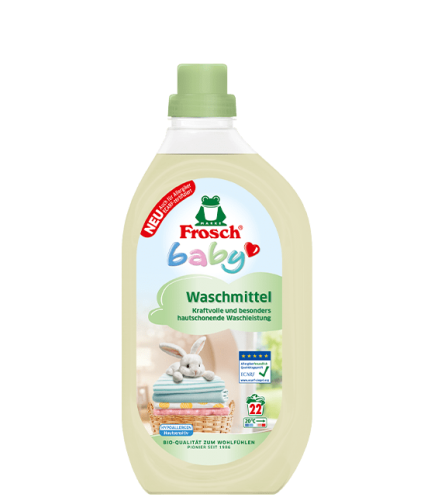 Cleaning strength at 30°-95°C
For colors and whites
22 loads of laundry
Hypoallergenic: without dyes and addition of preservatives
Pre-sort the laundry (e.g. by colour, degree of soiling, type of fiber) and follow the care instructions for the textiles. Pre-treat stubborn stains by applying detergent directly. Wash at the lowest possible temperature. If you have a house dust allergy, always wash your bed linen at 60°C. In the case of contagious diseases, increase the washing temperature to 60°C.
Aqua, Laureth-7, Sodium Cocoate, Sodium Olivate, Dipotassium Hydrogen Citrate, Alcohol, Sodium Laureth Sulfate, Amide Polyglycol Ether, Glycerin, Parfum, Sodium Carboxymethyl Inulin, PVNO, Protease, Amylase, Lipase, Cellulase, Mannanase, Chamomilla Recutita Extract
Further information

Free of animal-derived ingredients
All Frosch formulas completely avoid the usage of animal ingredients.

European surfactants
Use of European surfactants to ensure shorter transportation routes and reduced dependency on tropical oils from monoculture.

Microplastic free
Water-friendly formulas clean and care without microplastics.