Delicate Detergent Almond
The fiber-friendly detergent is suitable for delicate fabrics such as wool, silk and lingerie. The formula with natural almond oil cleans gently, protects colors and smooths fibers. That protects wool from pilling and increases the clothing's wearing comfort.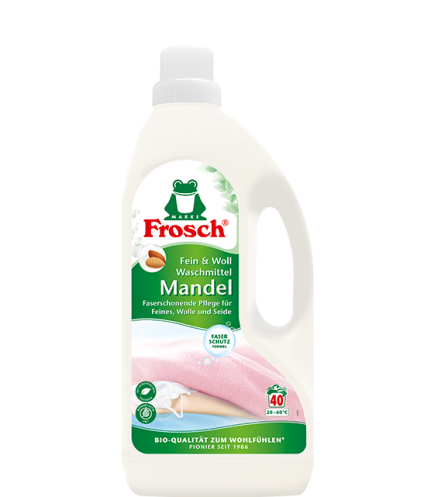 for delicates, wool and silk
20° - 60°C
40 loads of laundry
also suitable for hand washables
Presort the laundry (e.g. by color, degree of soiling, type of fiber) and follow the laundry instructions of the textile labels. Pre-treat stubborn stains by applying the detergent directly on the stains. Depending on the hardness of the water and the degree of soiling, use the appropriate amount of detergent and always wash with a full drum.
Aqua, Laureth-7, Alcohol, Sodium Laureth Sulfate, Sodium Citrate, Sodium Olivate, Sodium Formate, Coco-Glucoside, Polycarboxylate, Parfum, Sodium Carboxymethyl Inulin, Glycerin, Glycol Distearate, PVNO, Olus Oil, Prunus Amygdalus Dulcis Oil, Amylase, Cellulase
Further information

Free of animal-derived ingredients
All Frosch formulas completely avoid the usage of animal ingredients.

Microplastic free
Water-friendly formulas clean and care without microplastics.

European surfactants
Use of European surfactants to ensure shorter transportation routes and reduced dependency on tropical oils from monoculture.