Children's Sensitive Soap
The hypoallergenic formula cleans and protects sensitive skin. Its valuable and moisturizing ingredients support the natural protective acid mantle and ensure a pleasant feeling on the skin. The very good skin compatibility has been dermatologically confirmed.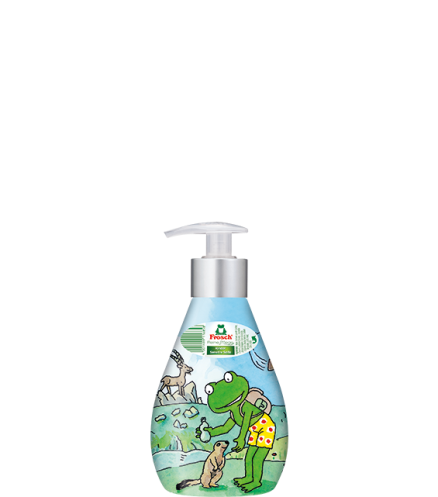 skin-neutral pH 5.5
ideal for children's sensitive skin
soap dispenser with varied designs
free of microplastic, parabens and EDTA
vegan
Put the sensitive soap on your hand, foam it up with a small amount of water, wash and rinse your hands as usual.
Ingredients: Aqua, Sodium Laureth Sulfate, Glycerin, Sodium Chloride, Cocamidopropyl Betaine, Coco-Glucoside, Glyceryl Oleate, Parfum, Sodium Benzoate, Lactic Acid, Citric Acid
Further Information Cosmetics

Free of animal-derived ingredients
All Frosch formulas completely avoid the usage of animal ingredients.

Microplastic free
Water-friendly formulas clean and care without microplastics.

Recyclat / Recycelbar
Packaging made of recycled and recyclable materials makes possible the circularity of raw materials.